Car rental in Tbilisi - Minivans - Mercedes Benz Sprinter
(+995) 571 44 66 44
Mon - Sun, 09:00 - 18:00
Mercedes-Benz Sprinter
Home >
Our Cars >
Mercedes-Benz Sprinter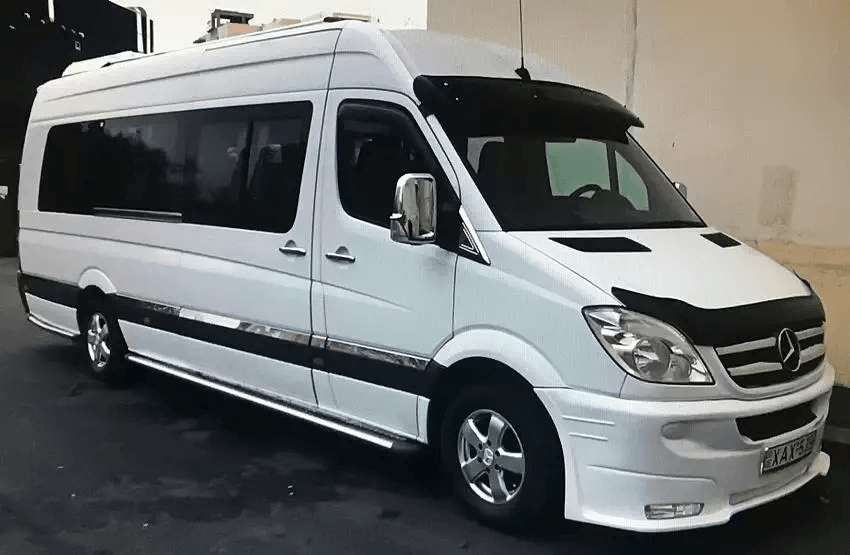 Specifications
Passengers: 17
Transmission: Automatic
Insured: Yes
Fuel Consumption: L/100km
Fuel Type: Diesel
Air Conditioner: Yes
Only With Drivers Service!
Drivers Service and fuel up to 100 km are included in the price!
0.84
Book Mercedes Sprinter
The pictures of Mercedes-Benz Sprinter on this page are genuine. You will have exactly this minivan if you
rent minibus in Tbilisi
or other cities of Georgia at GSS Car Rental.
Other Suggestions

Mercedes-Benz Vito
Car Type: Minibus
Transmission: Automatic
Number of Seats: 9

Mercedes-Benz Vito
Car Type: Minibus
Transmission: Manual
Number of Seats: 9

Toyota Sequoia
Car Type: 4x4
Transmission: Automatic
Number of Seats: 7

Mitsubishi Pajero
Car Type: 4x4
Transmission: Automatic
Number of Seats: 7
GSS Car Rental offers insured Cars for Rent in Tbilisi, Batumi, Kutaisi